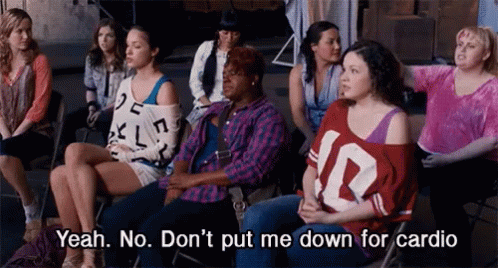 Cardio.
There are die hard fans & avid "would-rather-die" fans.   Some people do it because they have to, some do it as a warm up & others will avoid it like the plague.
I hate cardio.  I'd rather stick pins in my eyes than partake in HIIT training & the thought of using a treadmill makes me all squiddly. I absolutely & unequivocally do not understand those who can run for hours; whether that's on a treadmill in the gym or those who think that there is nothing better than running a marathon.
That being said, there's absolutely nothing wrong with those who CHOOSE to do all the cardio because it's what they enjoy doing – I'll happily congratulate you on beating your PB or getting a medal at the end of a gruelling race.  Just don't expect me to go with you the next time you decide to run, I have better things to do…..like sit on the sofa & do nothing.
Once upon a time I did not think this way, I thought anyone who did cardio for longer than a warm up was insane – however (& this is where it may be a little confusing as I already said I hate it) I am a better, "healthier" person because of cardio.  I don't consider what I do to be cardio though; because I absolutely, undeniably LOVE what I do (those new to the blog, I cycle around 60 miles (95km) a week, every week) It's not a chore – most days – I don't class it as cardio because cardio to me insinuates getting all sweaty & jumping around like a lunatic in a warm, stale gym studio; or as previously mentioned *shudder* running.
I genuinely believe that you should find a cardio form that you enjoy, because if you do – you'll want to do it more than forcing yourself to do something you hate; it's why I don't do HIIT, aerobics, P90X, spinning etc – they're my idea of torture.
Anyway, I have a point.  (I'm sorry if this seems really unstructured & garbled; I have a lot on my mind & trying to isolate my point is proving a little difficult)
I cycled everywhere as a child, I thought getting back on a bike would be easy, it wasn't.
For the first few weeks, if not months I had to pace myself; stopping to catch my breath because it felt like my lungs were on fire
My water bottle became my best friend
The thought of cycling after it'd snowed was the least enthusiastic I'd been about doing anything for at least a decade
My legs hurt, my chest hurt, my face hurt.  I seriously questioned my sanity more than once when I started cycling again
You know what?  I could have easily jacked it in & went back to a 5 minute "death sentence" on the cross trainer for every gym session, but I'm glad I didn't.  I absolutely love being out on the bike.
The human body is a delicate piece of intricate machinery & like a beautiful car, it requires a lot of TLC – Something far too many of us, have all at one point or another not done.  I knew when I first got my bike last year that I was not fit, but was not expecting the ordeal it was to cycle on a daily basis.  My blood pressure has always been pretty steady; sometimes on the lower scale, but my resting heart rate was something else; averaging around 75BPM.  Below is a screenshot from my Fitbit app; my resting heart rate is now anywhere between 48BPM – 53BPM & I owe it to cardio.  Cardio has also been a MASSIVE help in my weight loss & reduction in body fat, I lost 6lb in the first month of cycling to & from work or the gym.
THAT'S AN ATHLETE LEVEL RHR!
Also, y'know if the zombies ever appear; never, ever forget Rule #1: